Any one of us who has spent a few weeks or months cooped up indoors with the weather turning cold at home may dream of a week or two away, basking on a beach in the warm summer sun. But where can you go for certain winter sunshine without breaking the bank? Choosing the best sunny holiday destinations may be difficult at other times of the year, to help you navigate your way to the perfect spot, we've created your essential guide to finding the best sunny holiday destinations in the world all year round.
What are the Top 10 Sunny Holiday Destinations to Visit in 2022?
If you have all of the facts, finding the greatest sunny holiday destinations is a breeze. Every one of our climate reports is compiled from data collected over the past 30 years, including temperatures, sunshine hours, sea temperatures, rainfall, and more. This provides a clear picture of global typical conditions and allows us to narrow down locations where you can obtain sunlight throughout January to December.
1. Dubai, UAE
Dubai is one of the sunniest cities in the world, with nearly 3,500 hours of sunshine each year compared to around 1,440 hours in London. The months of May and June are the hottest, with temperatures reaching 37°C and 39°C. Temperatures rise to 41°C in July and August, accompanied by 10 hours of sunshine per day. Winter months are short-lived: from December to March, there are only nine hours of sunlight each day, before decreasing to eight hours from April to May as winter approaches once again.
It's a lovely sunny holiday location with lots of blue skies and scorching weather, but keep in mind the UV since it is strong from April to September, and most people find that it is too hot for a genuine beach holiday in the summer. If you're searching for sunny holiday destinations for your next holiday, you might want to add Dubai to your list.
When in Duabi for your sunny vacation, here is a comprehensive list of fun activities in Dubai to keep you entertained and a list of the best African restaurants in Dubai where you can try out some local African delicacies. 
2. Bali, Indonesia
Bali is a tropical island that has eight to ten hours of sunshine every day. The temperatures are high year-round, ranging from 29°C to 31°C, however, it's the combined heat and humidity of Bali that makes it so hot from November until May. This location is one of the best sunny vacation destinations for families. The weather is suitable for all ages.
The months of November to March see the most rain, as well as excessive heat and humidity, which ensures that things feel lovely and hot. June through September is ideal for a truly hot and sunny holiday stay any time of year with just a sprinkle of rain, high temperatures, and plenty of sunshine – great if you're searching for a really hot and sunny vacation spot at any time of year.
3. Los Angeles, USA
In terms of sunshine, L.A. is the finest large city option. In LA, at least 72 percent of the day (the time between sunrise and sunset) is bright, with around 12 hours per day in summer and seven hours in winter. The average yearly temperature is 64°F, so the heat isn't overpowering. It never gets too hot or cold, which is why it's a top choice for year-round sunny vacations. This is one of the top sunny vacation spots for couples.
Summer, of course, is the best time to visit Los Angeles because it's warm and pleasant, with temperatures reaching 30°C in August. Of course, if you want warmth, June through October is when the temperature rises to a peak of 30°C with moderate heat and humidity. However, even though winter is a more difficult season to visit due on account of the colder temperatures and wetter climate, it does have its advantages.
Daily highs reach 20°C from December through February, although evenings are chilly and there's a greater chance of seeing rain. LA is perfect for those who enjoy the weather like this because it's comparable to the Canary Islands in Spain – if you adore it here then LA is for you.
Read also: Top 10 Cuban Restaurants in Houston
4. Miami, USA
With at least seven hours of sunshine every day from November to January and ten hours from April to July, Miami is a veritable treasure trove of rays all year. When the temperature rises above 31°C in August with extreme UV, high heat, and high humidity, and the warmest seas of the year at 30°C, some individuals find the summer season from July to September too hot.
The driest month is June, however, the rainiest months are January and February. This is also when there is the most rainfall, with May receiving the most rain. Stay by the coast to take advantage of cooling sea winds. Winter, which runs from November through April, is a lovely season with plenty of sunshine, the highs in the mid-twenties, low heat, and humidity (if any), and only a slight chance of rain.
The water temperature drops to about 24°C, which is comparable to the Med in summer. It's still warm out there. This higher water temperature helps keep things warmer by the beach than they are inside at this time of year. Miami is an excellent all-year-round sunning holiday location that caters to everyone and every age. 
See other top family holiday destinations in Florida with lots of fun things to do and indoor activities for maximum fun and relaxation. 
5. Barbados
The temperatures seldom drop below 28°C throughout the year in Barbados, and there is a minimum of seven hours of sunshine each day, however, this is more often eight or nine. Rain occurs most frequently between July and November, although because they are tropical in nature, they do not last long, and from May to November there is a prolonged period of very high heat and humidity.
Add to this the scorching sun from February to October, and the warm sea which reaches a top temperature of 29°C in September but never drops lower than 26°C by February, and you have one immensely hot and sunny holiday destination that's enjoyable for any time of year – passing showers are allowed.
Check out this comprehensive list of Caribbean Islands for couples for your next vacation with your spouse. 
6. Punta Cana, Dominican Republic
Punta Cana is a popular choice among UK tourists searching for a sunny holiday destination because it is both an easily accessible and inexpensive long-haul option. Punta Cana's popularity as a holiday spot is due in no small part to its weather, which is consistently warm with highs of 28°C to 29°C throughout the year and seven to nine hours of sunshine each day. The winter months are somewhat cooler and drier than the summer months, with daytime highs of 28°C to 29°C and warm seas with a low of 26°C. This vacation spot makes a perfect sunny holiday destination for winter and summer.
When the temperature rises above 30°C and 32°C in April and November, the plot alters. There's also a lot of heat and humidity, as well as more rain (often reaching tropical storms), which makes it feel unbearably hot. On the other hand, there is plenty of sunshine throughout this period.
Worried about storms in the tropics? Give our tropical storm risk tool a try to see how rare it is for your holiday to be ruined by a passing storm.
Read also: Top 10 Things To Do In Peckham And Places To Visit
7. St Lucia
The climate of St Lucia, while geographically close to Barbados, is somewhat distinct owing to the presence of high mountains that directly influence the climate. The high rainfall, which lasts from June through November and is constantly present, is what distinguishes it. The torrential rains have no effect on the amount of sunshine received every day during the year; rather, they modify its duration by approximately eight hours.
Temperatures peak at 30°C in May and October, with no readings lower than 28°C throughout the rest of the year. There is moderate heat and humidity throughout the year, except for September, when temperatures rise to a scorching 48°C (118°F).
There's a lot of UV throughout the year, and the water is ideal between 26°C and 29°C. Although St Lucia is prone to tropical downpours, it is nevertheless a hot and sunny holiday destination in an exquisite setting.
8. Mauritius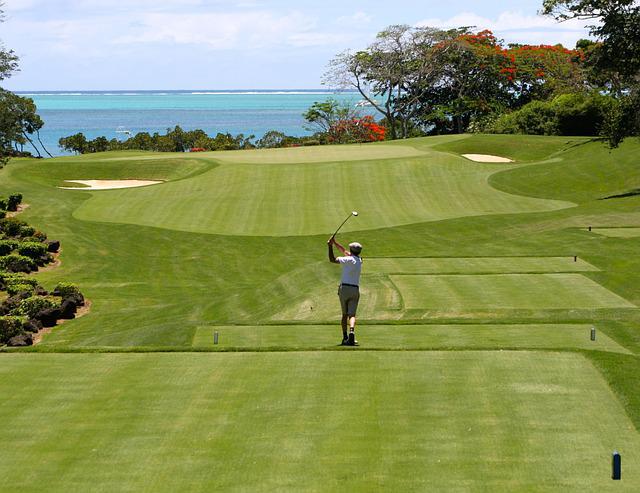 Meanwhile, Mauritius, a gorgeous island located in the Indian Ocean, makes the grade for its year-round sunshine. There are roughly seven hours of sunlight each day from January to December, and when you consider that this includes the rainy season, which lasts from December to March, it's no surprise that Mauritius continues to attract sun-seekers. Although it's located in the tropics, Sri Lanka is farther from the equator than you may think, which keeps temperatures cooler throughout the year.
The dry season lasts from April to November and is a better time to visit since temperatures are cooler and fresher. From April through August, daily highs peak at 29°C before dropping to about 25°C during June through August. It is one of the most visited sunny holiday destinations for family.
Showers are probable, although they will be light to modest in temperature and humidity, and the sea varies from pleasant at 27°C in April to chilly at 23°C by August – comparable to the Mediterranean in summer. The coastal waters of Mauritius are also buffeted by the southeast trade winds throughout July and August, which may produce rough seas. It's during the rainy season that things start to heat up, with temperatures reaching 30°C, high heat and humidity, and strong UV. The wet season, as usual, is a time of plenty. Expect the most rainfall in January and February, although there will still be sunshine between the raindrops.
9. Antigua
January to December are the pleasant shores of Antigua, which welcome visitors throughout the year and offer a continuous flow of sunshine. It's easy to see why the first eight months of the year have an average of eight hours of sunshine per day when compared to London at that time, which has anything from five to one hour per day.
The temperature in Antigua is quite constant, fluctuating only slightly from day to night, with temperatures ranging from 28°C to 31°C throughout the year. Antigua receives an occasional good soaking from August to November, but these rains typically pass by quickly. Between March and September, when UV levels are highest, apply sunscreen diligently.
10. Canary Islands, Spain
On a final note, the Canary Islands – particularly Fuerteventura and Lanzarote, which have between six (December) and nine (June to August) hours of sunshine each day – are nowhere near as bright as they are elsewhere in the year. The Canary Islands aren't as popular as other locations on this list, but they are undoubtedly bright. Summers in Lanzarote can reach up to 28°C, whereas winters are significantly colder and less about beach trips with temperatures of 20°C.
The climate of the island is warm and pleasant, with temperatures in summer ranging from 18°C to 25°C, and winter temperatures ranging from 20°C to 29°C. There are also few beaches on the island for visitors to relax on; however, because it's a year-round sunny holiday destination, most people go there to enjoy various outdoor activities like hiking and cycling.
Final Thought
Vacations at sunny holiday destinations are a great way to enjoy nature. They are usually packed with lots of beach activities and fun things to do. For both couples and family vacations, sunny locations are a great way to connect with nature, clear your thoughts and get refreshed emotionally. Save this list of sunny holiday destinations for your next travel.